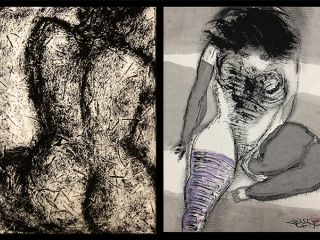 Women in Black & China Girls
September & October 2019
This exhibition brings together Sophie Sainrapt's charcoal drawings and Yuliang Guan's washes. Both met in China during a residency of artists and work on the theme of female nudity. A voluptuous nudity.

Their works, without resembling each other, show similarities that we wanted to bring together in the same exhibition that will then travel to China from the month of November.

From September to October, the Retour De Voyage gallery will present 20 charcoal drawings on Asian paper and 9 Yuliang Guan washes at an exhibition-sale.