GORDES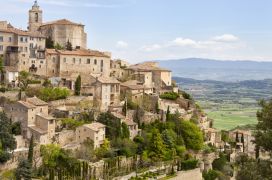 THE VILLAGE OF GORDES
Gordes is a small Provencal village, located in the south of France in the Vaucluse department in Provence-Alpes-Cote d'Azur.
The village of Gordes belongs to the Luberon Regional Natural Park, it is also one of the most visited villages in the park.
It is known tourists from around the world, the village is even classified among the most beautiful villages in France. This title has been attributed to him thanks to its rich heritage: the castle of Gordes, two abbeys (including Abbaye de Sénaque), mills etc.
The inhabitants of Gordes are called Gordiens, they have the chance and honor to live in a village with 300 days of sunshine a year, where calm and tranquility reign.
You can walk through the streets of Gordes to discover the secrets that Provence offers. You will admire its stone houses, its imposing castle and fortress, as well as the museum of Pol Mara, a contemporary Flemish painter from the Luberon.
We love the village of Bories, a historical monument listed since 1977.
The village of Gordes is 18 km from Maison Sur La Sorgue, 25 minutes by car.