ISLE SUR LA SORGUE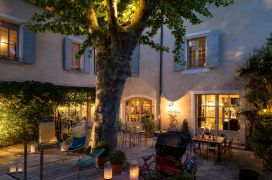 L'ISLE SUR LA SORGUE
Isle sur la Sorgue is located in the Vaucluse region Provence-Alpes-Côte d'Azur.
Your hotel "La Maison Sur La Sorgue" is located in the historic center of the village of Isle sur la Sorgue. The inhabitants of the village are called Les Islois.
Isle sur la Sorgue takes its name from "La Sorgue", which has its source in Fontaine-de-Vaucluse. The Sorgue is divided into multiple arms that surround the city.
The town is served by the A7 motorway (12 km from the exit), by the SNCF station of Isle-sur-la-Sorgue (TER Provence passes there by connecting Avignon to Marseille).
Hometown of poet René Char, Isle sur la Sorgue is a small paradise of green crossed by many arms of the Sorgue on which still old wheels turn at dawn. In its old center, alleys and canals intertwine. Stairs go down to laundries and docks line the river.
To find out more: tourist office