LE LUBÉRON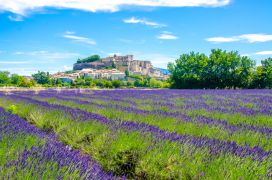 THE LUBERON
The Luberon is located between the Alpes de Haute Provence and the Vaucluse department. True land of nature, you will find here one of the most beautiful natural areas of Provence: the Regional Natural Park of Luberon.
To discover absolutely: the beautiful villages of Roussillon, Bonnieux, Gordes .... And the many local products (wine, cheese ....); breathtaking landscapes!
Since Lauris and its castle, you will dominate the valley of the Durance.
From Venasque, you will admire the Natural Park from its famous ramparts.
In Oppède le Vieux, you will have a 180 ° panorama unique in Provence.
Since Mallemort, you can soak up the charm of the Durance along the Luberon mountain.