MONT VENTOUX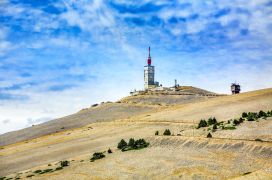 MONT VENTOUX
The Mont Ventoux, also known as "The Giant of Provence", at a height of 1912 meters above sea level, is a French summit.
It is the highest point of the mountains of Vaucluse, in the south of France.
World famous for the beautiful hiking or biking it offers, climbing Mont Ventoux can be done in a variety of ways depending on your fitness.
Indeed several departures are possible: Bédoin, Malaucène or Sault. Three small French towns that all have a Provencal charm.
The climb of Mont Ventoux is ranked in the top 20 French passes. Cyclists from all over the world will appreciate this climb.
The little tips:
If you are in Olympic form you prefer to leave Bédoin or Malaucène, with a climb worthy of the most beautiful French passes.
Make sure the top is clear, there is not too much wind, and a nice sun. The view from the top is splendid, as much put all the chances on his side to enjoy it.
La Maison Sur La Sorgue offers cycling trips to its guests (cycling tours).
To access the various departures to climb Mont Ventoux: it will take 35 minutes from L'Isle sur la Sorgue to Bédoin (35km), 45 minutes to reach Maucènes, and almost an hour to Sault.