SAINT REMY DE PROVENCE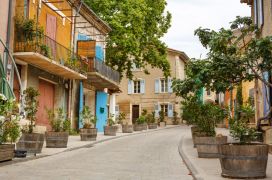 SAINT REMY OF PROVENCE
A PRETTY ALPILLES VILLAGE
The regional natural park (PNR) of the Alpilles is a rural inhabited territory. It has great heritage value, landscape and a particularly wonderful biodiversity. (more info)
Located north-west of the department of Bouches-du-Rhone, the Alpilles form the last relief before the great delta of the Rhone.
Presenting an original landscape of white limestone rocks, it extends from east to west between the towns of Tarascon and Orgon.
The Alpilles also shelters many charming villages of Provence: such as the Beaux-de-Provence, Saint-Rémy-de-Provence etc.
During your stay at Maison Sur La Sorgue, you will have the opportunity to discover the Alpilles under the sun of Provence. The Careers of lights located at Les Baux de Provence are a great way to discover the secrets of the Alpilles, young and old alike will appreciate the show.